The Little People Have Arrived! Yeehaaw!
Jun 15, 2012 by barlazyj-ranch
       Our first family week was SO much fun—what a great group of kids we had to kick it off!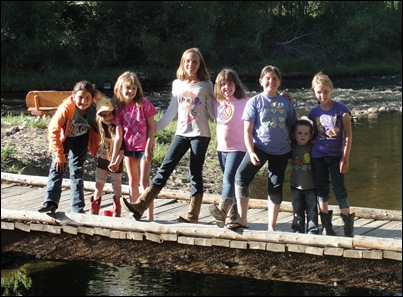 Aaron, here, caught this trout in our pond and Chef Eddie cooked it up just right!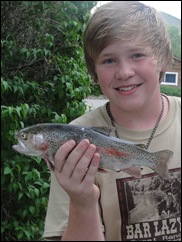 This year, as part of our 100th year celebration, we took the "on your own time" that folks usually had on Wednesday afternoons, and added a croquet tournament and a "high tea"—complete with Oreos! (Did you know it was Oreos' 100th year as well? So we decided to pair up!) This is what guests were doing here 100 years ago (well….minus the Oreos probably….but maybe!) and besides giving guests a taste of the Old Days, we're finding it also is a wonderful social gathering time before dinner. It's also been fun to watch the kids learn how to play a game that most would otherwise never be exposed to!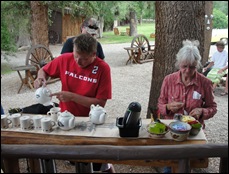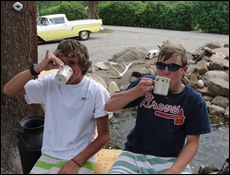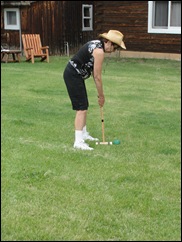 In case anyone had any doubts about Cheri's ability to perform some of her ranch traditions….you'd be WAY wrong. Music Conner anyone? (With a little "horse power" from Chad.) After all, it IS Carnegie Hall we're practicing for—we can't miss a rehearsal!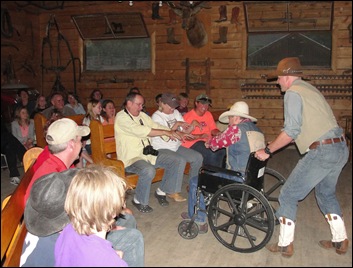 Our staff is complete! Electra graduated from her schooling and arrived last Friday at last. We don't typically have staff arriving so late, but in Electra's case we make an exception because she is well worth the wait! So glad to have her here at last!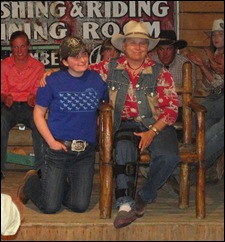 If you've been to our Staff Show, you will certainly recognize the characters in this skit—and Katie here, who is new to the Crew this year, makes a marvelous Cinderella! "Alright"….

      So, we all know in life there are sometimes…..mishaps? Wrong turns? Being lost on the trail for 3 or 4 extra hours? Well, sometimes when there are new trails to be learned, it's easy to get a tiny bit mixed up. Wednesday, one of our new wranglers took an extended Extended Ride! But if you're gonna get lost in the woods for a few extra hours, make sure it's with THESE people! (Personally, I think this was all just some hoax to steal a few extra hours out on a ride with them…they are rather exceptionally fun folks.) And they all returned with a big smile and a good story, so that's the important thing!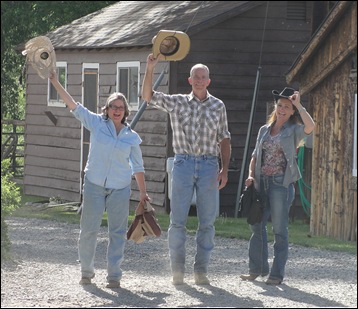 But it couldn't be let go without just a liiiittle razzing from the bosses…..then it wouldn't be any fun! Good sport Alexis!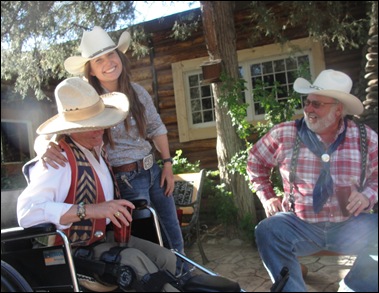 The return of the Candy Store Ride!  Ever since Miss Dorothy passed away, many of you (and us too) have truly missed the Saturday morning ride to her General Store where kids got a special treat and a sweet smile from Dorothy. It had been a tradition for years and years. A year after Dorothy was gone, the General Store caught fire and, unable to salvage it, we were all sad to think the days of the Candy Store Ride were over.  But then our good friend Katie who owns the PI offered to open up her doors early on Saturday morning and provide a wide selection of soda pops, candies and ice cream to all our kids! So pre-season we installed hitching rails in the front and this past Saturday we were all quite a sight as we made our first ride up to the "candy store"! The kids loved it and we are thrilled that we can continue this much-loved tradition in honor of Miss Dorothy. She is loved and missed.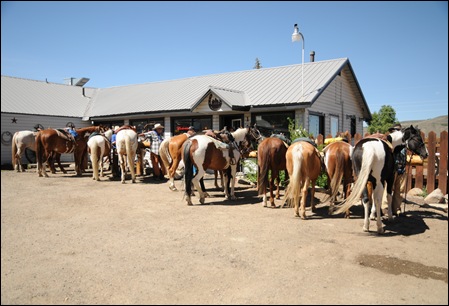 We have a great Kid Program staff this year (like every year!) and Collin, as you can see, gives the other counselors and wranglers a run for their money for the best Gymkhana outfit!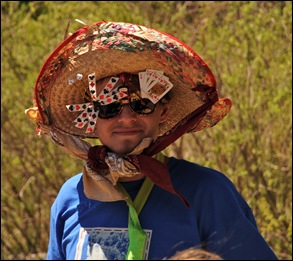 And I can't reveal all of the details of some of our new kid Gymkhana games, (I know some of you adults would be practicing…..cheaters!)  But I'm just going to say…….you're gonna get laughed at . A lot.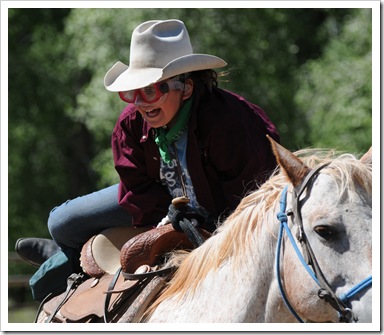 We're into our third week now, and we have a big (I mean BIG) addition coming soon that we'll be announcing, so keep checking in!