Pedicure Anyone?
Feb 10, 2013 by barlazyj-ranch
      If you know horses, then you know that some of the most important parts to take care of are their feet. No feet—no horse! So here at the ranch, during the summer months, no horse goes on trail without a set of shoes to protect them from the rocks and rough terrain of the Rocky Mountains. But in the winter? It's a whole different story. Like a sandy beach, the soft snow we get here makes for some nice footing for our guys during their time off. And since all they do for eight months is eat and hang out, all they require is a good trim about this time in February. So regardless of the weather, we head out with our farriers and try to coax a herd who hasn't been touched in 4 months to let us catch them and mess with their feet! Lucky for us, we have some great horses. We can walk out and catch any of them, but that sure takes a lot of time.  Although we've done it that way in the past, this year they were in a spot where we could herd them into corrals and move them around within. It made it MUCH easier for figuring out who you had left to do! So here they are!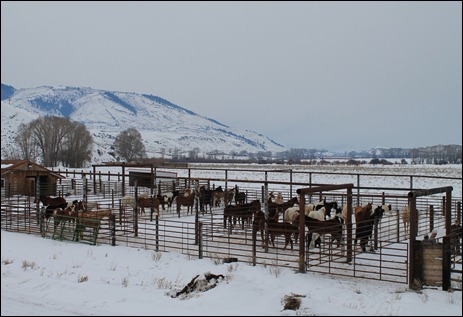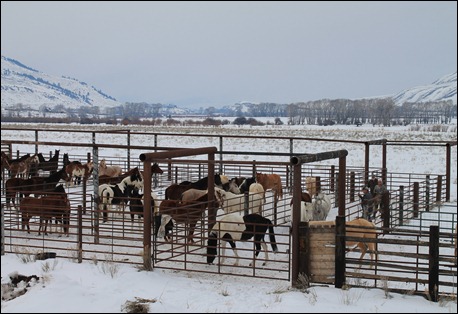 And as each group was finished, they wandered out to resume their eating—it's a tough life I tell ya…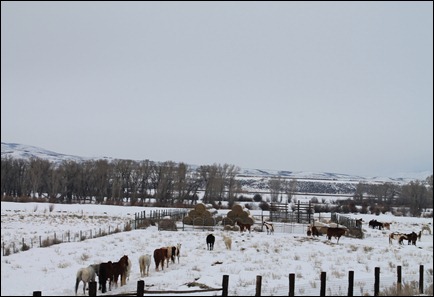 And here are our farriers Shane and JD. They are no fun whatsoever. Very serious…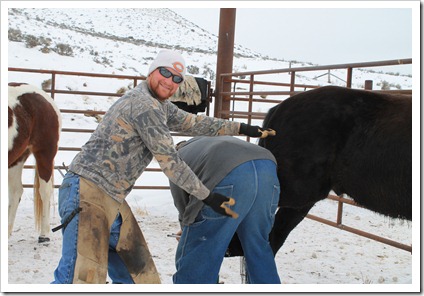 Here you see JD is practicing his "Price is Right" techniques.       Shane  has actually been associated with the ranch for like—EVER.  Years before Jerry and Cheri even owned the ranch. He wrangled, was head wrangler for a year in 2000, and took over as the farrier not long after that. You can see that even the staff get addicted to this place!  He and JD knocked out 75 horses in 2 days. After all those "pedicures", those boys were deserving of a spa day themselves!       We often talk to our guests about "pecking order"—the "order of ranks" so-to-speak among the herd. They get plenty of room to spread out and form their little "cliques" out at winter pasture, but get them all together and you get a little of this—yikes! Don't stand in the way!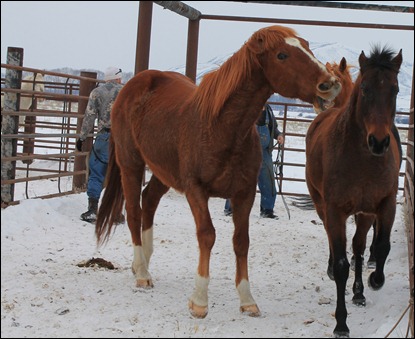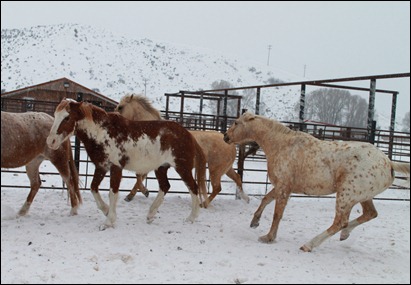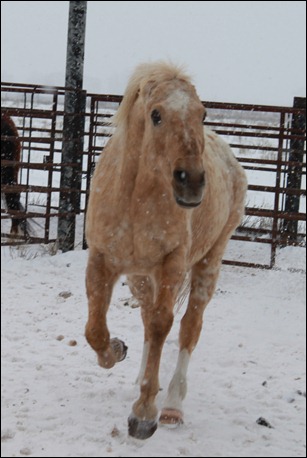 The peanut gallery stands and watches the show. Who knew there was such a thing as "horse gawkers"?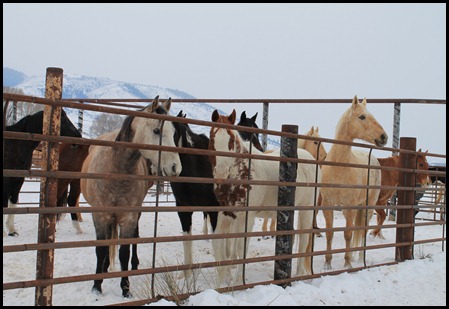 Let the trimming commence!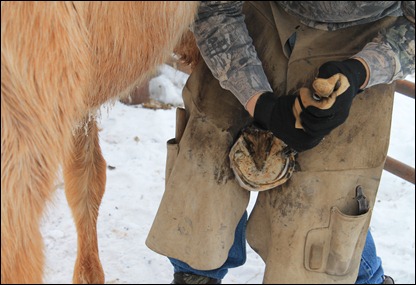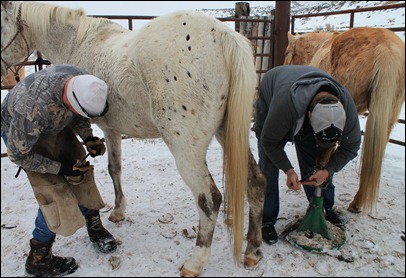 No dirt to remove—just some fluffy snow. Those are some clean feet!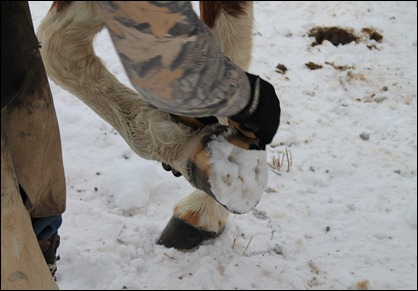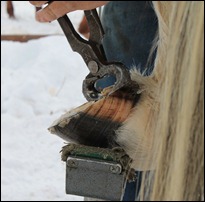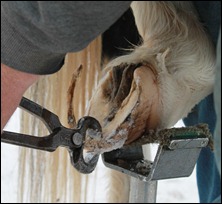 Next group!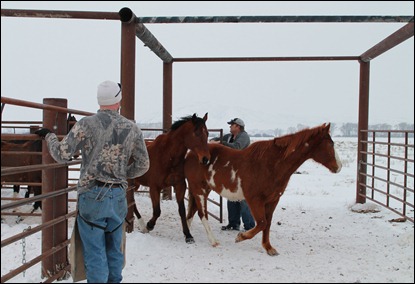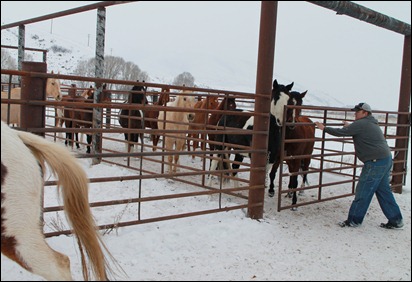 The bosses are always out helping. Last year Cheri and JD did all the horses themselves with Cheri catching and JD trimming. How many bosses do THAT?  This year Jerry was on hand to catch, hold and check off the list.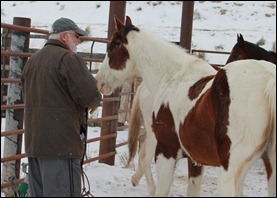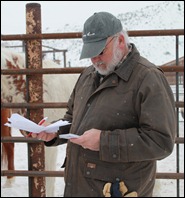 Oh and Rocky helped too!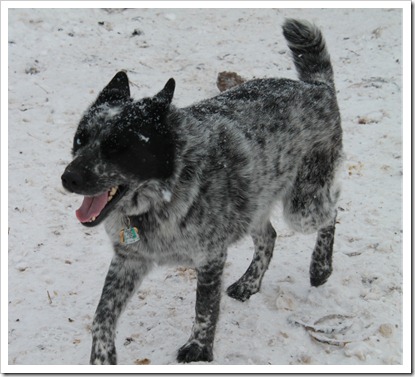 Of course there is the occasional "Let me go! Let me go!" But a bit of patience and they are good to go again. We don't force anything on our ponies. They do what we ask because they trust us and you definitely have to earn that trust!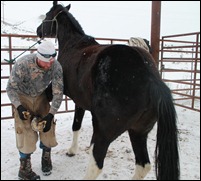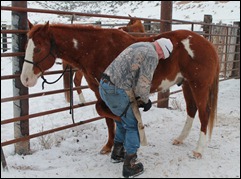 And when they are SUPER happy—you might even get a smile!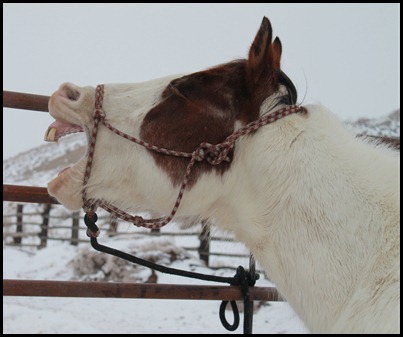 Or a kiss…..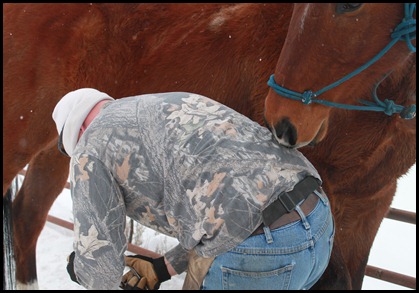 Hard not to love 'em. These horses are our passion.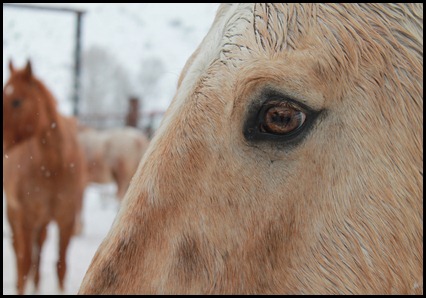 Back to the trim! One by one….foot by foot…..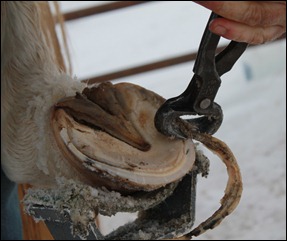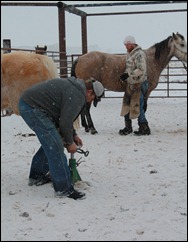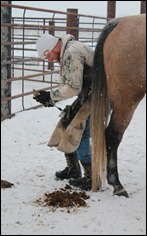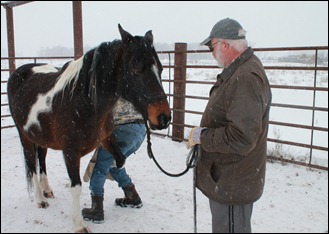 The snow was coming down pretty hard by the time they were closing in on being done.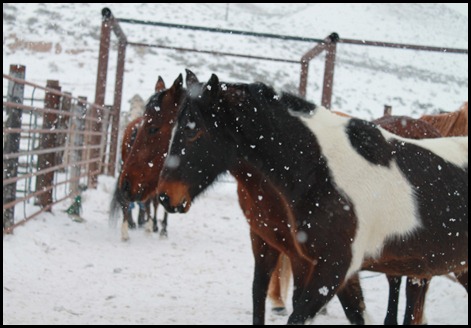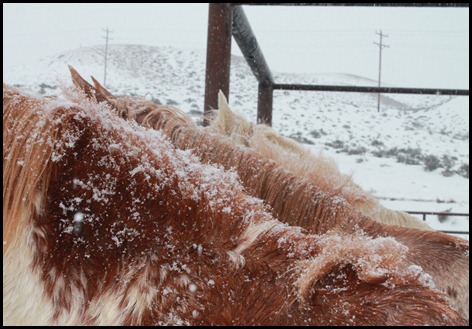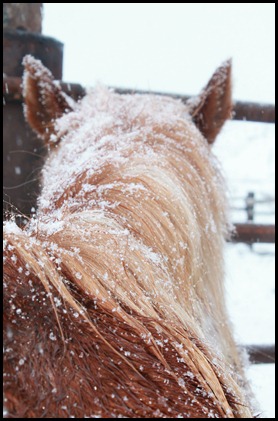 And here was the last one! A celebratory thumbs up from the boys!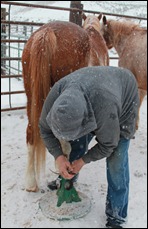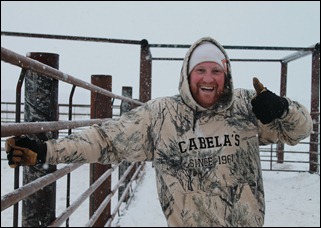 We release the last group and they are anxious to join their buddies. Just a couple more months and the snow will be melting and we'll be bringing them home! It won't be long now 'til we're into our 2013 season—we can't wait!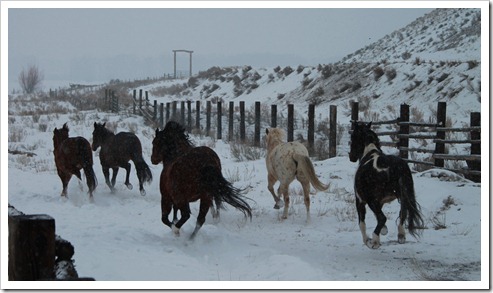 Go run kids!