Off-Season Going-Ons!
Feb 22, 2015 by barlazyj-ranch
Howdy friends! A big hello to everyone from Bar Lazy J!      It's been wonderfully uneventful in our parts and we honestly can't BELIEVE it's almost the end of February! That means only 2 MORE MONTHS until we start opening the ranch again and only 3 MORE MONTHS until our first guests arrive for opening week!! This winter has flown by and we think that's partly because it hasn't felt much like winter here. In Jerry and Cheri's 20 years (Yep—this year makes twenty!!), they said they've never seen such a mild season like this one has been. The temperatures have been in the high 30s to low 40s most days, and with our typical Colorado blue skies and sunshine, that makes it feel like t-shirt weather in these parts! These past few days we're getting moisture like much of the rest of the country, but we haven't seen the heavy snowpack like we have most other years and the snow we're getting now isn't staying long. Now not to worry—don't think we run the risk of drought—snow pack in the higher elevations is over 100% of normal so all is well for the ski towns and future needs of the mountain rivers and reservoirs. It just means good things for OUR stretch of the river knowing that the melt off should be mild and keep things at good levels here by the ranch and in the county. And for our guests who have been here when the river is high—you know why that makes us happy! Should be yet another excellent season for trout on the river and easy crossings on horseback.      Now don't think "uneventful" means "not busy" cause uhhh—that is NEVER the case when you have 85 horses to feed everyday. As you know, the fodder system is working marvelously and our head wrangler Lauren, along with several of our wranglers—Electra, Nick (Bear) and Mark—have all stuck around this winter to help with the new feed system and enjoy the slower pace of the off season here in the valley. They've done an excellent job of managing the fodder system and we have started portion feeding the herd that we brought back so that we can really know how much everyone is eating and making sure they are getting plenty. That means extra work for everyone, but these guys are so top notch. We've tremendously appreciated their hard work and dedication to the herd these past 2 months with getting the new fodder system rolling smoothly. The horses are definitely benefiting and there's talk of adding another machine this Spring to increase our production. Yes, it's that good!      Those bags? Are full of barley seed. Yes, barley seed. You could fit the entire wrangling staff in one of those. Now THAT is buying in bulk. We'll be thinking about perhaps a silo here in the future. But for now, we enjoy watching Lauren have to climb up and bucket it down…. Builds character. (We love you Lauren!)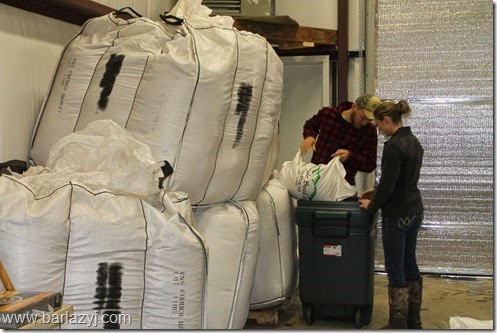 Still just as gorgeous as ever! We never get tired of seeing that beautiful green grass in the dead of a Colorado winter!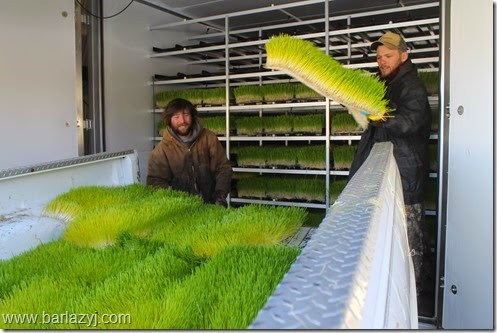 And you can see the horses are feeling the same!  The lines begin along the pen at the same time every day. We only have smart horses around here—smart horses who know their treat is on its way!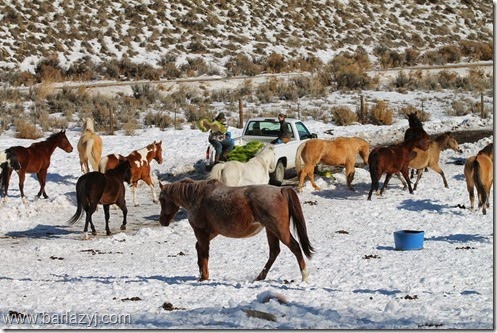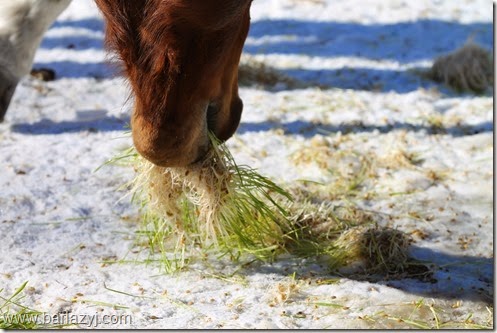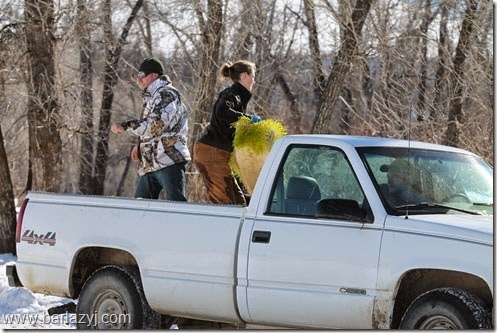 And are learning how to claim their portions.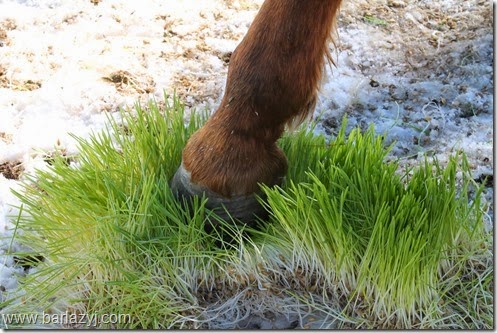 So although there is a lot of work to be done in the off season, there's some time for play, too. Denver Stock Show was in mid January and it's always a treat to head down for some great rodeos, livestock competitions, a huge tradeshow and to mingle with some like-minded cowboy folk. The Yurich fam won tickets to the PBR (Professional Bull Riding) Finals with one of Tam's ranch photos last summer and they were more than a bit thrilled to find their seats were directly behind the bucking chutes! And of course she had her camera…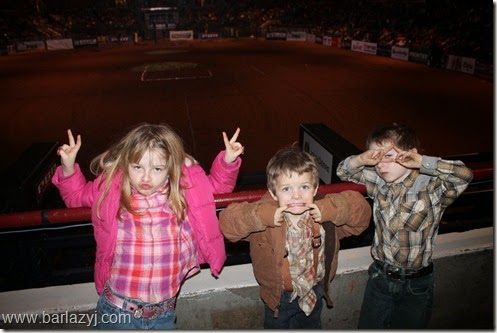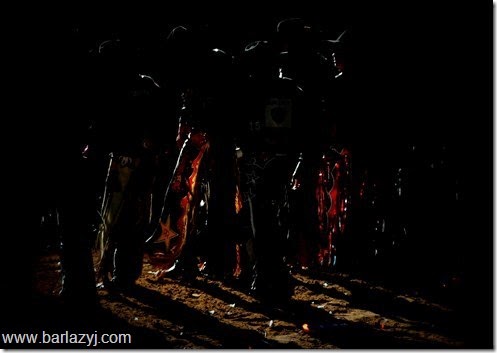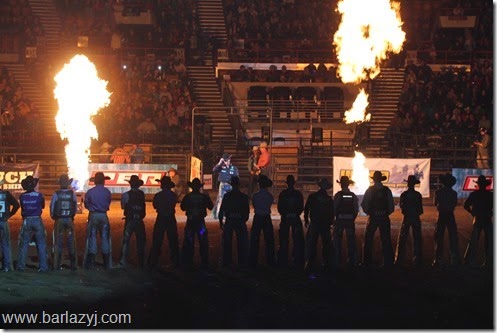 This one is entitled, "Bad Day".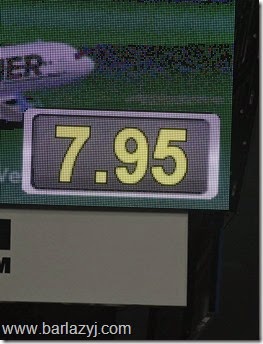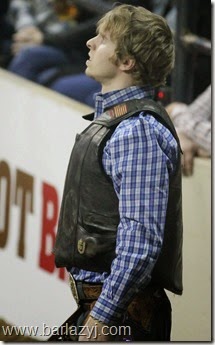 There were some pretty amazing riders!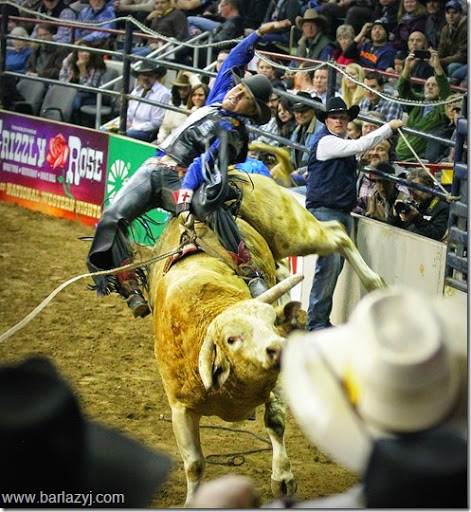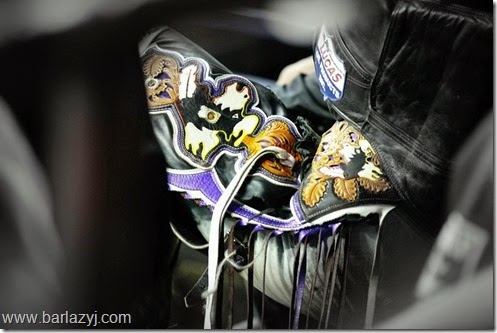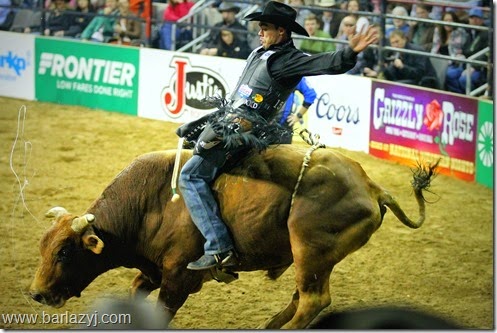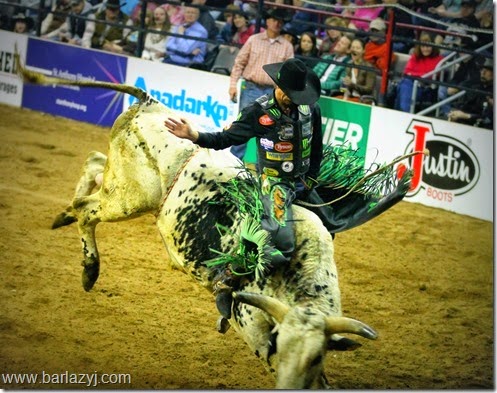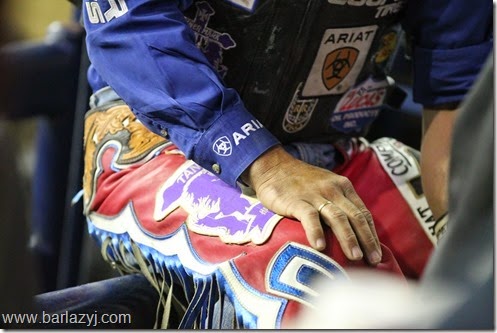 And some pretty scary moments as well. But everyone walked away alright.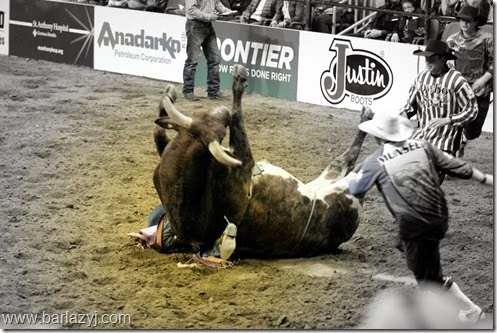 Whew!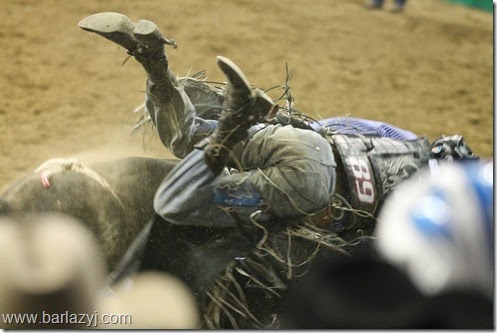 And this photo is a favorite because it just seems to say so much. This guy? Was the one opening the gate. That's it. Opening the gate. The look on his face says it all. If that's how he felt…….. ???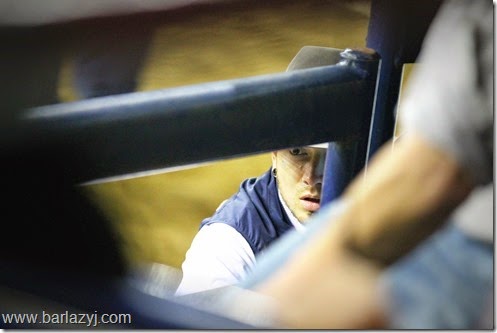 Thank goodness around here, we get our kicks in a slightly less dangerously bone-crushing manner. But only slightly less. We still like our adrenaline rushes. So we gather up the crew about once a month for….    b.o.a.r.d.g.a.m.e.s. Did I mention AND a potluck? That's right. I said it. Simmer on down.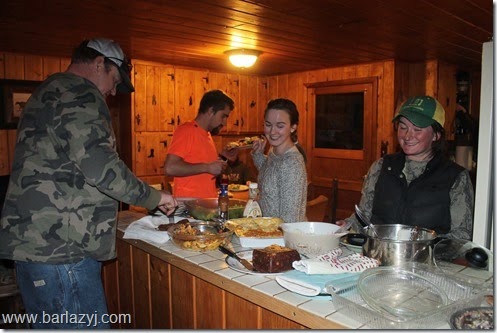 That casserole didn't stand a chance. It almost wasn't fair.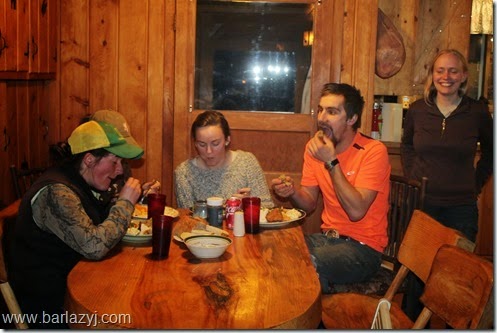 And you know how those vegetarians go after those salads…. It's almost predatory. Except, you know…without any meat.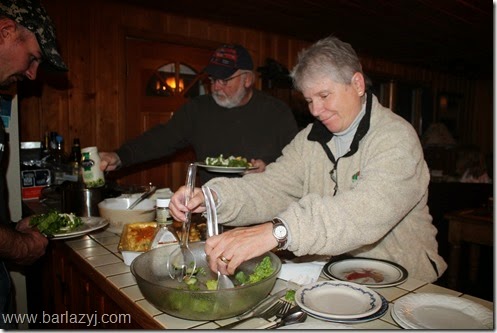 Do you think that's FUNNY Electra?? Of course you do. (Love this lady.)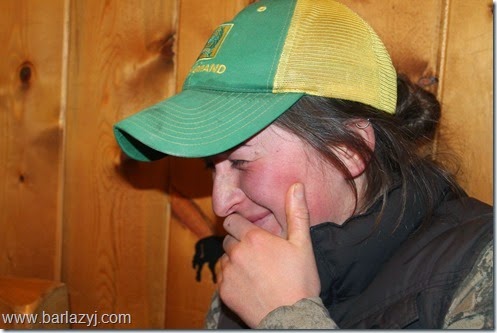 And then it was time to divide into teams for some friendly ranch competition. Game master Laura made us do it. Something about bonding and keeping our wits sharp in our old age and ….. I forget.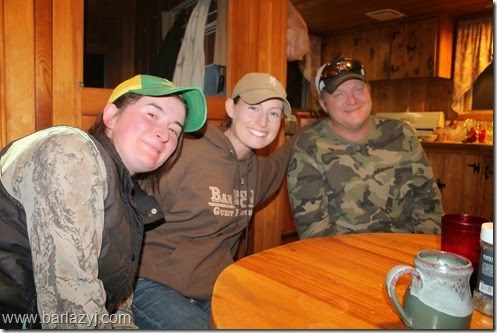 But it was fun!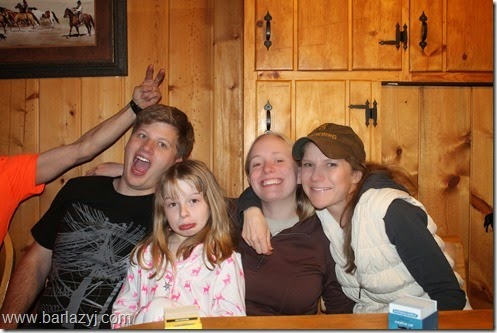 Of course, how could it NOT be with this hilarious crew. And how many ranch owners play Cranium with their staff in the off season? If there are any, I dare them to document it…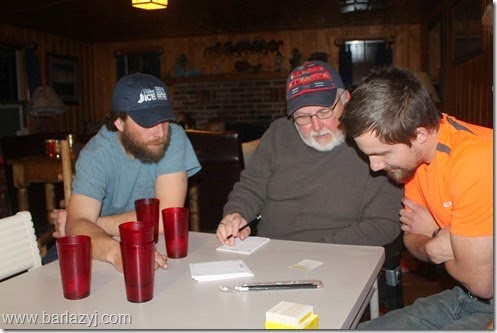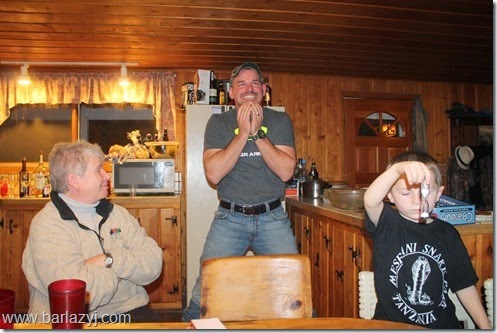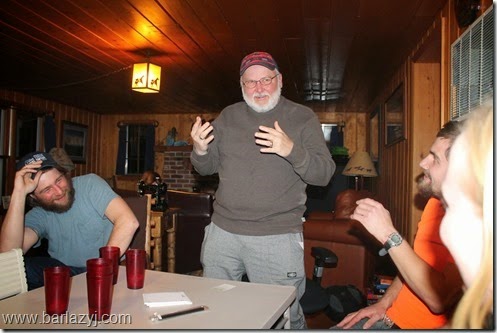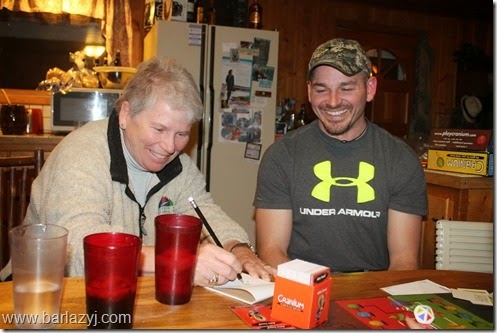 Are we lucky to have the Helm-ickis at the helm or WHAT? (See how I did that?)  TWENTY years this summer! And look at all they've done for this place. It's incredible what it's become from what it already was. They have truly kept the magic and added their own touch of specialness in the process. Every person that comes here feels it for themselves and Jerry and Cheri are such a tremendous part of that. Prepare to be hugged when you arrive!    Here's a little more off season fun going on around here. LOOK at those beautiful fish! Mark and Bear sure know their stuff and we have something special in the works for our guests this summer. It was just decided recently, so we'll announce it when the details are all ironed out, but it's going to be a nice treat for our guests. Just another little gift from us to you!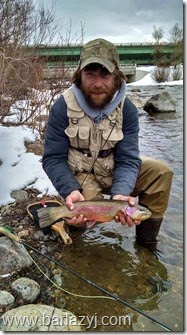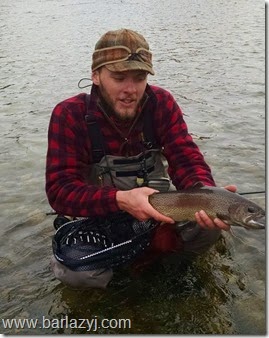 Our 2015 newsletter should be arriving in your mailbox any day now! Every year, Cheri gives a rundown of the latest projects and plans for the upcoming season and that's where you'll hear FIRST who will be returning again for next season on staff. (And spoiler alert—there are a LOT!) Cheri got it done and into print before she and Jerry headed off to Costa Rica for 2 weeks with some of our GUESTS! Seriously! They and three of our long-time guests embarked on a horseback riding excursion across Costa Rica and are enjoying the warm beaches as we write this. In fact….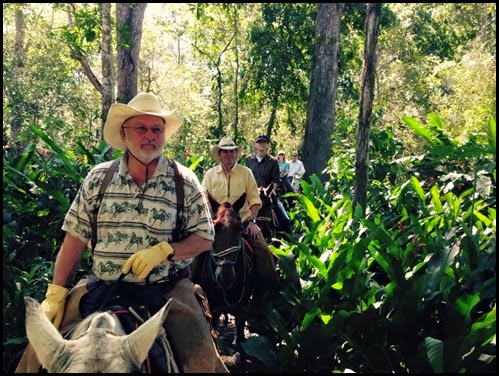 There ya have it! A much deserved getaway and just like so many of our guests who ride back home and then come on a horseback riding getaway here at the ranch—they are loving every minute of seeing some different terrain and relishing some gorgeous country outside of what they get to enjoy every day.  (Hmmm…wishing my window didn't face the blizzard outside right now….)      If you follow our Facebook page, you might have seen us post about our Lodge Hostess Laura's new Custom Memory Apparel website. She is quickly adding lots to her creative catalog of projects and can custom make just about anything you're interested in out of leather or ANY material for that matter! The Yurich kids will be sporting her super cute barbwire stamped leather suspenders this summer and she's made several cowhide belts for guests and staff already. She's even beginning to get some interest in creating some western wear for our Buckhorn Saloon Night, too. As we said—there's nothing she can't do! Check out her page at www.custommemoryapparel.com if you want to message her about a project you have in mind before she gets busy when our season starts!

   The other thing you might have missed if you don't follow us on Facebook, is our recent feature in the Kidventurous blog post, "The One Thing You MUST Do With Kids in Every U.S. State". http://kidventurous.com/2015/01/one-thing-you-must-do-with-kids-in-every-u-s-state/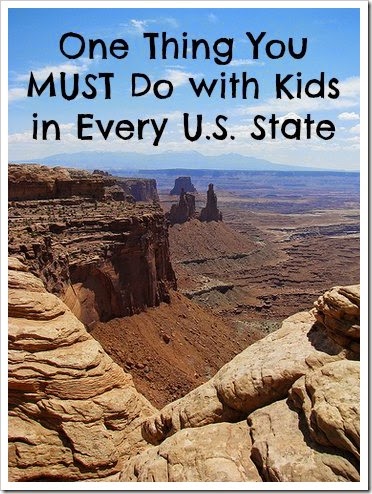 The Kidventurous blog was named "The Best Family Travel Blog" by Parents magazine, so what an honor that Bar Lazy J was their #1 pick for Colorado! We're thinking that's a pretty special declaration and the rest of the article is loaded with fun destinations from all over the country. Check out the list and we know some of you can check off at least ONE of those! We know we can!      We've got some new horse photos coming at you this next week, so just hold tight! Remember that if you're thinking of joining us this summer, you MUST call us as soon as possible! There are only 2 weeks left this summer with availability for families and only a handful of cabins left open during our Adult Weeks. We've already started holding cabins for 2016! We'd love to have you join us and look forward to seeing everyone who is coming this summer! Can you believe it??? It's ALMOST here!!