Rates
An All Inclusive Dude Ranch Experience Awaits
Our All Inclusive Dude Ranch Rates
The 2017 Bar Lazy J season runs from May 28th - September 29th, view our calendar below. Our all inclusive dude ranch rates are for 7 NIGHTS and run Sunday to Sunday throughout the season.
While we recommend a full week to take advantage of all the ranch's great activities and entertainment, we realize sometimes a shorter getaway better fits into your schedule. For that reason, we do offer 3 night minimum stays during all of our Adult Only weeks and the first two family weeks of June. Stays must begin or end on a Sunday. Check out our 2017 calendar below for details about specific dates. And check out our All-Inclusive Activities page to get a sampling of what's included in our all inclusive dude ranch rates!
2017 American Plan Rates (Weekly, Sunday to Sunday)

Adults (13 and over): $2,150.00 | Discount Weeks*: $1,935.00
Children (7-12): $1,595.00 | Discount Weeks*: $1,435.50
Children (3-6): $1,295.00 | Discount Weeks*: $1,165.50

*Note: A 10% discount is offered the weeks of May 28th, June 4, June 11, August 27 and during the entire month of September. The calendar below has highlighted these weeks, and also notes adult only weeks.

---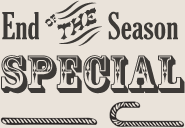 September 24th-29th we're offering a 5 night special for anyone wanting to help us close out the 2017 season! At an additional discounted rate, you'll spend 5 packed days with all of best of a full week at Bar Lazy J! Come help us finish off the Fall and celebrate the gorgeous colors here in the Rocky Mountains. Just $1300 for a 5 night stay—Sunday through Friday!
---
Daily Rates (for discounted weeks only): Adults (13+): $280/per night; Children (7-12): $215/per night; Children (3-6): $175/per night

Sales Tax: Above rates are subject to 5.7% sales tax and we add a 15% service charge/gratuity so you won't have to be concerned about leaving any staff tips.

Ranch House Accommodations: Add $200/person.

Don't forget our returning guest discounts! 2nd year—5%, 3rd year—8%, 4th year and up—12%

Adults Only!

We understand that sometimes you just want to get away with your significant other or even by yourself for a vacation. That's why our all inclusive dude ranch offers 6 weeks of "Adults Only Dude Ranch Vacation Time".  We offer the full range of our weekly activities and even throw in a couple of extras. The rides are a little longer, the pace a little more laid back and the evening events full of lots of laughs. We look forward to our Adult Weeks every Fall! Come with friends, family, or on your own. We'll make sure you have a great experience during this time with a few less guests and at a more relaxed pace.

The weeks of May 28th, August 27th and all of September are ADULTS ONLY.  We provide a 10% discount and offer a 3-night minimum stay during this time as well. The discounted weekly rate is $1935.00 and the daily rate is $280.00.

Cancellation/Deposit Policy

To confirm reservations, a deposit of 35% is all that's required. Deposits can be made using Visa, MasterCard, Discover, or personal check. The balance is payable at check-out time. We prefer the balance to be paid by personal check, traveler's check or cash, but cards are accepted.

If cancellation is necessary, and we are notified at least 60 days before your arrival date, an immediate refund will be made less a $50 cancellation fee. If cancellations are made inside of 60 days, we will make every effort to fill the cabin(s) with a new reservation. If we're able to do so, we will refund the portion of the deposit for those cabins, less the $50 fee. If you arrive later than the schedule arrival date or must leave before the scheduled departure date, we must charge for the entire period. We will make every effort to fill the unused portion of your reservation and will refund any portion sold to your account.