Horseback Riding
Rocky Mountain Colorado Horseback Riding from Bar Lazy J
Whether you are new to horseback riding, a very experienced rider or somewhere in between, we have the perfect horse waiting for you. We are proud to maintain our own herd of over 100 top notch horses, which accommodates all levels of riding ability. Our experienced horse wranglers carefully consider your skills before pairing you with YOUR personal horse during your stay here at the ranch. Not only that, you'll receive personalized instruction and helpful tips to maximize your Colorado horseback riding opportunities and form a strong bond with your horse. No matter your level of confidence, we are confident in preparing our guests for the next level of horsemanship they are ready to experience.
The ideal location for Colorado Horseback Riding
Bar Lazy J is situated in a lush valley surrounded by public land in every direction. Our daily rides offer a wide variety of terrain—including the Arapaho National Forest's sage-covered hills, beautiful river valleys, and high into the Rocky Mountains with sapphire skies and crystal clear views. Ages 13 and up get to ride with our exciting adult riding program and means they can join the fun on all of the Scenic, Moderate and Adventure rides we offer twice daily. Even if you've ridden for decades, you'll find our extensive riding program safe, challenging, and most definitely FUN! Our guided rides are partly conducted on Public Lands under special permit from the U.S Bureau of Land Management and the U.S. Forest Service.
---
In addition to these, we offer the following specialty rides on different days throughout the week:
Breakfast Ride
Wednesday morning, enjoy a light snack and then head down to the barn for single and group family photos before mounting up and hitting the trail all together for a scenic ride to our Breakfast Site along the Colorado River. You'll have to cross it to get there and be sure to smile at our photographer capturing the moment! There, our wranglers will tie up the horses while you head for the smells coming from camp. Grab some coffee warming by the fire before loading up on Chef Eddie's delicious banana-walnut pancakes and other delights including scrambled eggs, roasted potatoes and peppers, bacon, and sausage – cooked right there over the fire.
Enjoy our homemade biscuits and jam and some time by the river for family photos. Then we'll break up into regular Scenic, Moderate, Adventure and Kids' rides and make our way back to the ranch via various riding routes. If you're after some additional saddle time, continue from the Breakfast Site into our All Day Ride and have your lunch out on the trail as well. We'll see ya back at the ranch in time to do the Zip-Line if you're up for it!
Half-Day Hot Springs Ride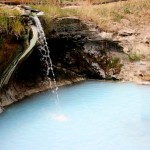 Friday we offer the unique opportunity to have lunch at one of our favorite scenic spots—the top of Byers Canyon—before working your way down into the town of Hot Sulphur Springs. There, a trailer and your previously packed bag will be waiting along with your free pass into the Hot Sulphur Springs Resort to soak in their 22 naturally heated pools. Once frequented by the Ute Indians, the pools now draw people from all over the country to enjoy the skin-benefiting minerals present in the water. We'll take the horses home while you soak and send a van to pick you up later!
High-Country Colorado Horseback Riding
Be sure to sign up if you're interested in enjoying one of Jerry's incredible High Country Rides to enjoy the finest in Colorado horseback riding in Rocky Mountain terrain. The morning of, your packed lunches will travel with you via saddlebags as we load the horses in the trailers and head out. After a short ride to the trail head, we'll bridle up and head into the trees. These breathtaking rides will take you to the top of some of the highest peaks around where you'll have a chance to ride trails rarely touched and witness views rarely seen. A Bar Lazy J exclusive! You'll have to come back multiple years to do them all!
Bushwhacking Ride
Saturday we'll trailer out again to the open range where we know some "sweet spots" for hunting antlers, bones and other natural findings. There's no nose-to-tail riding on this ride as we spread out and explore the hills of sage with gorgeous views of the valley and surrounding mountain ranges.
Horse/Rider Challenge Course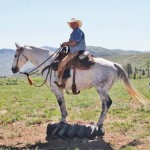 Another unique offering at Bar Lazy J is our horse and rider Challenge Course. Each year, we modify existing and offer new obstacles to continually challenge even seasoned horse and riders. Our wranglers will teach you the horsemanship skills to work with YOUR horse to improve your trust and communication with one another. Learn the building blocks of teaching your horse to overcome "scary" situations and build their confidence while simultaneously building yours. Cross bridges, close gates, cross tarps, step up platforms, walk under hanging fingers and more. This Colorado horseback riding experience is an excellent activity for both novice and experienced riders! Even the Kids Riding Program gets an afternoon on the course.